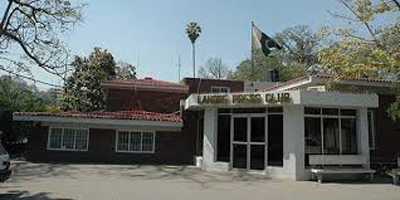 JournalismPakistan.com December 22, 2015


ISLAMABAD - The Lahore Press Club elections for 2015-2016 are round the corner and it is expected that well above 2,000 voters will cast their votes on December 30. The polling station is likely to be set up at Alhamra Hall, The Mall, Lahore.

The formidable Journalist Panel, which has enjoyed a smooth ride for the last many years, is in apparent trouble due to infighting and formation of splinter groups. The main reason cited by some members of the club is that Arshad Ansari, who has been in power as LPC president since 2012, has violated the constitutional clause that bars candidates from contesting for a slot they have held for three consecutive terms.

They allege the club's constitution was amended during a meeting of the general council, without sharing the agenda of that meeting with members in advance, and this clause was removed to pave way for Ansari to contest elections.

Since several prominent members of the Journalist Panel including Shafiq Awan and Shahbaz Mian have parted ways with Arshad Ansari, the contest this year is going to be really tough.

Ansari has termed the whole move a trap laid by anti-democratic forces who he says only believe in dirty politics. He says the restrictive clause was undemocratic and removed on demand of members who felt deprived of their right to elect their representatives, based on their track record and accomplishments.

The latest is that the splinter groups of the Journalist Panel, and the Progressive Panel are working on formation of an alliance this year and fielding common candidates.

Shahbaz Mian who has held the slots of vice president and secretary of the club under the presidentship of Ansari has emerged as a strong candidate for the slot of LPC president.

An office-bearer of the Progressive Group claimed that Ansari and his loyalists including Afzal Talib and Naeem Hanif were afraid of defeat this year.

He said that is why they have given new memberships to around 575 people a couple of weeks ago on condition that they will cast their votes in their favor. "Many of these members are non-journalists. This lot of new members shall be not be given the right to vote this year."

A Journalist Panel guy who is facing severe criticism from Ansari group for switching sides claims it is a matter of life and death for Ansari to contest and win the elections.

He said Ansari is facing a NAB inquiry for allegedly making millions unlawfully through catering contracts obtained in the name of his brother, during the Punjab Sports Festival.

Ansari has addressed the LPC members and termed all the allegations levelled against him and his team as baseless. He says the politics of baseless allegations without evidence and proof will not work at all. "Our work and the services we have rendered for the journalist community are the only reasons why our community elects us to power."