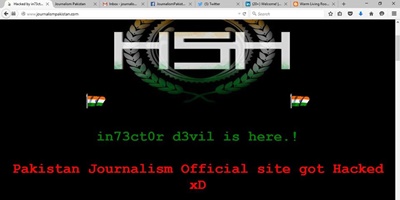 JournalismPakistan.com August 20, 2015
ISLAMABAD: JournalismPakistan.com was hacked Tuesday for the fourth time since its inception in 2009.

Hackers claiming to be Indian attacked the website and deleted some important news stories and data. However, JP's technical team was able to retrieve all the material.

The hackers posted this message on our Home Page: "in73ctor d3vil is here…..Pakistan Journalism Official site got Hacked xD".

JournalismPakistan.com Managing Editor and Publisher Imran Naeem Ahmad said such cowardly acts by Indian cyber terrorists have done nothing to dampen our spirits. "Do keep trying and we will keep coming back even stronger and quicker," was his message to cyber terrorists across the border.

Ahmad apologized to all the readers and followers who would have been inconvenienced. "I thank them for being patient and sticking by us," he said.