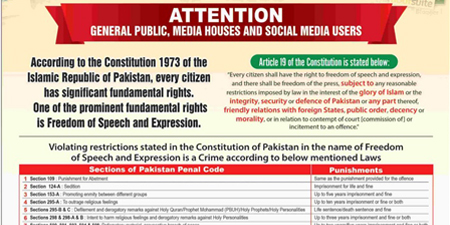 JournalismPakistan.com March 17, 2017 Daud Malik



ISLAMABAD - The government Friday warned general public, media houses and social media users against violating restrictions with regards to freedom of expression under article 19 of the constitution.
Half-page advertisements in mainstream newspapers quoted Article 19 in full along with various sections of Pakistan Penal Code, including 295 B & C (blasphemy), which carries the death sentence. The main message in the advert is: "Exercise your right to freedom of speech without committing any crime."
The Article 19 gives every citizen "the right to freedom of speech and expression" along with "freedom of press" which is "subject to any reasonable restrictions imposed by law in the interest of glory of Islam or the integrity, security, or defence of Pakistan or any party thereof, friendly relations with foreign states, public order, decency or morality, or in relation to contempt of court (commission of) or incitement of an offence."
The ad warns that violating restrictions stated in the constitution…in the name of freedom of speech and expression is a crime. It also informs that interpretation of the constitution and law rests with the superior judiciary while the authority of amending it is the task of the parliament.