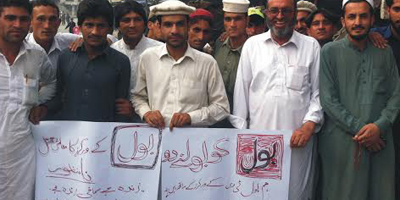 JournalismPakistan.com May 31, 2015
KOHISTAN: Kohistan Union of Journalists has urged the government to refrain from interfering in launch of BOL News Television under the garb of investigations into its parent company Axact.

The journalists from the district held a rally Saturday to express solidarity with journalists working in BOL. "We are standing by our fellow journalists at this difficult time," said President of the union Waqar Saeed while speaking to participants of the rally.

He said the government is hatching a conspiracy against the channel under the garb of Axact investigations. "It is a pity that journalists across the country have been protesting against PEMRA and the government for the last three days but no media house was giving them coverage," he said.

Saeed urged the government to take back its letter written to PEMRA to block the channel's transmission as the situation was bound to hurt livelihood of journalists attached with BOL.