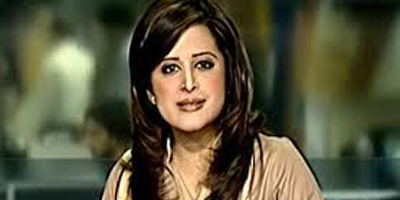 JournalismPakistan.com December 15, 2014
LAHORE: Harassed by Pakistan Tehreek-i-Insaaf supporters, Geo Television's popular newscaster and reporter Sana Mirza (pictured) broke down in tears while speaking live on the party's protest in Lahore Monday.

Geo News reported empty bottles were tossed at her. Other staffers also came under attack, among them Ameen Hafeez, Sohail Warraich, Asim Naseer, Jawad Malik, Ahmed Faraz, and cameraman Raja Amir. The crowd threw stones, glass projectiles and bottles at them, Geo said.

Television footage showed reporter Amin Hafeez clasping his head and grimacing in pain after being hit by a stone.

PTI chairman Imran Khan condemned the attack on Geo team.

Earlier, on December 12 when PTI protested in Karachi, two female journalists of Geo News and senior journalist Mazhar Abbas were harassed.