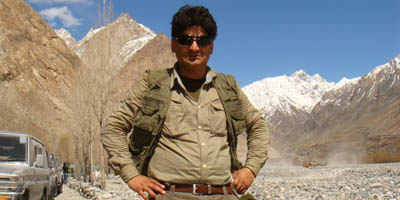 JournalismPakistan.com May 23, 2012
ISLAMABAD: Matiullah Jan of Dawn News has not had the best of times recently. His popular program Aapna Gareban exposing crooked journalists was shelved and in a way so was Mati.

But never one to stay down for long, Mati's efforts have not been in vain. He has a hardcore following who believe just like he does, that corrupt journalists have no place in the profession. They should not be tolerated for they are giving the profession a bad name.

At the same time many honest, hard-working journalists have in the past few years been passing through a difficult time as news channels and newspapers continue to downsize and reorganize while others have succumbed to the pressures of the current economiccrunch.

These journalists face a bleak future as most of them were struggling even before being sacked or suddenly finding themselves without a job.

It is to this end that Mati has proposed the establishment of a special fund for emergency relief of such journalists. He suggests a monthly contribution by specificsalary-bracket journalists for the emergency relief of their colleagues who are down and out. Mati has promised to contribute a reasonable amount each month for this fund for as long as he still has a job.

According to him, a five member fund regulatory committee comprising representatives from journalists' community (one from print and one from electronic media), media owners (one from print and one from electronic media) and a government representative should carry out decisions on a majority basis.

He envisions that all print and television journalists, including editors, reporters, bureau chiefs, senior executives and anchors, who are journalists by definition and also bona-fide members of the Pakistan Federal Union of Journalists (PFUJ), should contribute within the range of Rs1000-5000 per month to this fund depending upon their salary range. All contributions would be made on a monthly basis and names of complying and non-complying contributors would be displayed each month.

Mati suggests the fund should be established for print and electronic journalists who have been rendered jobless and whose salaries were below Rs40000 per month.

Such qualified journalists should also have been contributing to the fund while they were still in employment and finally, a minimum amount of Rs7000 be given to the qualified journalists every month for a period of six months only or until the time they are re-employed on a salary which is more than Rs7000 or whichever is first.

Mati said he was open to more suggestions and advice in this regard, and urged senior journalists, anchors and particularly the PFUJ to consider his proposal seriously.