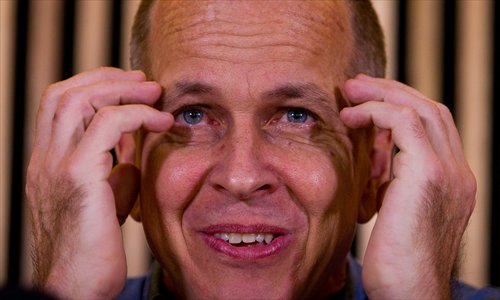 JournalismPakistan.com February 05, 2015
SYDNEY: Al Jazeera journalist Peter Greste said Thursday he was treated with respect during a 400-day prison ordeal in Egypt and plans to remain a foreign correspondent after an emotional return to Australia.
Greste's plane landed around 14:30 GMT Wednesday in Brisbane and he held a private reunion with his parents, brothers and other relatives before meeting the press.
He said he was ecstatic to be back after being deported on Sunday from Cairo, where he was held for allegedly aiding the Muslim Brotherhood.
"I've dreamt about this so many times and the reality is nowhere near what I imagined it to be. It's so, so much better," said the award-winning journalist after arriving to cheers at his first open news conference since being released.
But he and fellow Al Jazeera television colleagues, Canadian-Egyptian Mohamed Fahmy and Baher Mohamed of Egypt, had been treated well.
"We weren't abused in any way, we were treated with respect and dignity as much as can be expected under the circumstances. So that was fine."
Prime Minister Tony Abbott hailed Egyptian leader Abdel Fattah al-Sisi as "a friend of decency" on Thursday following Greste's return home.
Abbott said he had spoken with the president to thank him for his efforts in releasing the journalist, suggesting that bilateral relations were unharmed. - AFP