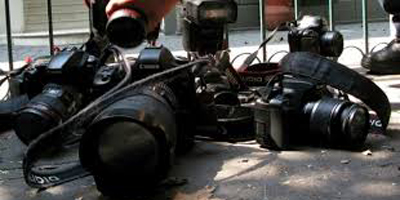 JournalismPakistan.com January 07, 2016


NEW YORK - In 2015, 71 journalists were killed in direct relation to their work, making it the fourth deadliest year since the Committee to Protect Journalists began keeping records in 1992, the organization said.

Thirty of the journalists killed, or 42 percent, died at the hands of extremist groups such as Islamic State. Those killings came as more than half of the 199 journalists imprisoned in 2015 were jailed on anti-state charges, showing how the press is caught between perpetrators of terrorism and governments purporting to fight terrorists.

CPJ reported in December that 69 journalists were killed around the world from January 1 through December 23, 2015. On December 27, Naji Jerf, editor-in-chief of the independent monthly Hentah and the maker of documentary films on Islamic State, was murdered in Turkey. In addition, new information led CPJ to confirm that Ahmed Mohamed al-Mousa was killed in relation to his work as a journalist.
Al-Mousa, a 23-year-old editor for Raqqa is Being Slaughtered Silently, was shot dead in Idlib province on December 16. The group of Syrian citizen journalists was honored with CPJ's 2015 International Press Freedom Award in November.

In 2015, the fight against impunity in the murders of journalists achieved some success, with at least six convictions worldwide. CPJ advocacy also contributed to the release of at least 50 journalists from prison, while the total number in jail at the time of CPJ's annual census declined slightly compared with the past three years. Of the journalists released this year, six were featured in the Press Uncuffed campaign, which, in partnership with students at the University of Maryland, seeks to raise awareness of journalists imprisoned worldwide.

"Though journalists still face significant global challenges, there is reason for hope," said Courtney Radsch, CPJ's advocacy director. "In 2016, CPJ will keep the pressure on governments worldwide to allow journalists to work freely and safely."

CPJ's database of journalists killed for their work in 2015 includes capsule reports on each victim and a statistical analysis. CPJ maintains a database of all journalists killed since 1992 . The database is continually updated. - CPJ