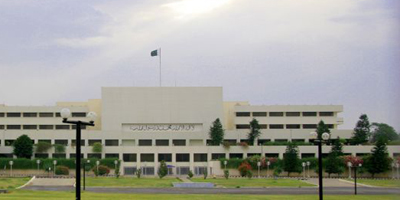 JournalismPakistan.com March 17, 2015
ISLAMABAD: All candidates representing Founder Group of journalists were elected unopposed in elections of Parliamentary Reporters Association.
The voting was due to take place at the press lounge of the Parliament House Wednesday but all rival candidates withdrew their nomination papers before the voting. Muhammad Siddique Sajid was elected president for a second consecutive term. Wasim Akhtar became the secretary general, Khalid Mahmood and Bahzad Saleemi the vice presidents and Afzal Javed as the finance secretary.
Sajid told JournalismPakistan.com that he succeeded in setting up a formal office of the PRA in the Parliament House during his first term that is fully equipped with latest computers, fax machine and telephones.
"The parliamentary reporters use the office to file their stories, contact their sources and read newspapers. It's especially helpful for agency reporters as they can quickly file their stories," he said.
He said the association was running all its affairs on self-help basis and contributions from fellow journalists. "Not even a single penny is not being taken from the government despite their repeated offers," he said.
Speaker National Assembly and Chairman Senate have been awarded honorary membership of the association as they have been helping journalists discharge their duties smoothly, he said.
The association plans to launch its website and install a video-wall in the press lounge of the Parliament House.
Journalists who cover parliamentary proceedings are members of the association and their count is around 300.
Talking about the walkouts from the press galleries of the National Assembly and the Senate, he said that a permanent ten-member committee has been constituted to organize smooth walkouts from the press galleries to register protest and address issues of the members.
"Our association's mandate is to facilitate journalists in the Parliament House only," he said, adding the journalists for their other problems can reach out to the management of the National Press Club and Pakistan Federal Union of Journalists (PFUJ)..