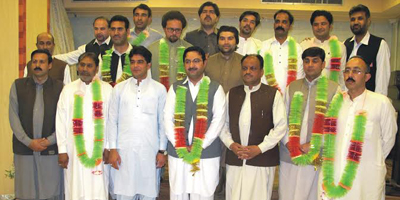 JournalismPakistan.com April 15, 2016 Haroon Siraj



SWAT - Fayaz Zafar (Daily Mashriq and Voice of America) and Saeed ur Rehman (Khyber TV) were elected President and General Secretary respectively of Swat Press Club for 2016-17, in elections held on April 14.
Others elected were: Essa Khankhel, Vice President (Jang Group), Sardar Hussain, Deputy General Secretary (Daily Basharat), Rafiullah Khan, Joint Secretary (News One), and Shah Asad Ali (Daily Azadi).
On the other hand, Mehboob Ali (Geo TV) was elected President of Swat Union of Journalists and Niaz Ahmed Khan (Mashaal Radio, Daily Nai Baat) as the General Secretary.
Shaukat Ali of (PTV) got elected as Vice President and Zubair Ahmed as the Deputy General Secretary. Shafiullah Khan, Anwer Anjum and Waheedullah Khan were among the members of the new cabinet.
Press Club President Zafar urged the newly elected body to refrain from stirring any controversies and asked them to stay united for the betterment of journalism in the region.
The five-member Executive Council of the Press Club elected unopposed is: Syed Shahab-ud-din of (Saama TV), Ghafoor Khan Adil of (ATV), Saleem Athar (Dunya TV), Qasim Khan (Daily Salam) and Obaidullah (Daily Wahdad).