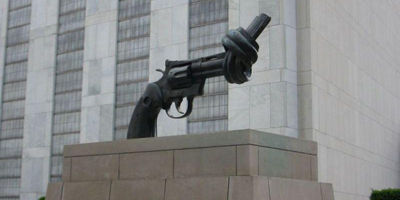 JournalismPakistan.com October 21, 2012
LONDON: Top editors and others associated with the media passed an eight-point declaration in London to express concern and demand action from governments to stop the killing and harassment of journalists and end impunity.

The World Editors Forum and WAN-IFRA, representing editors, publishers and news organizations in 120 countries, signed the London Declaration ahead of the United Nations Vienna Inter-Agency meeting with media and journalist organizations on November 22-23.

According to the WAN-IRFA website, in a move of rare solidarity, representatives from major newspapers and broadcasters in some of the most dangerous countries for journalists, including Pakistan, Mexico, Russia, Sri Lanka and Somalia, agreed that threats, both physical and legal must end.

The London Declaration:

Draft "London Statement" by members of the global media community on the safety of journalists and the issue of impunity

We, members of the global media community, gathered in London on 18 October 2012:

- Condemn all cases of killings and other physical attacks, intimidation, harassment, abduction and wrongful imprisonment as well as other forms of oppression of journalists and other media workers;

- Express our dismay at the failure of many governments to end impunity for the killers of journalists;

- Register our disappointment and concern at the lack of effectiveness of previous United Nations interventions including UNSC Resolution 1738 on the safety of journalists in conflict and an end to impunity;

- Affirm that the right of journalists and media workers to work free from harm, harassment and abuse is fundamental to freedom of expression and therefore a matter of urgent and legitimate concern for governments and societies around the world as well as the news media themselves;

- Welcome the UN Plan of Action on the Safety of Journalists and the Issue of Impunity, and declare that this historic commitment should fulfill the high expectations to which it gives rise;

- Express our strong concern that in carrying forward the Plan of Action, the UN system, as well as other relevant national and international bodies, should operate effectively and in accountable ways to persuade Member States to create safe environments for working journalists;

- Encourage all news media to monitor regularly the actions of their governments, judicial authorities and other institutions in implementing the Plan and ending impunity;

- Propose that the acute concerns of the news media for meaningful and practical actions are fully and seriously taken into account at the UN Inter-Agency Meeting being held in Vienna in November and thereafter in the effective implementation of the UN Plan.