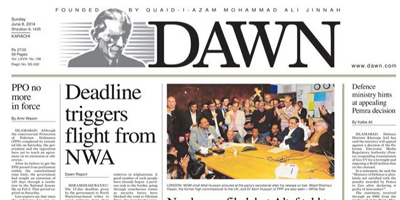 JournalismPakistan.com June 08, 2014
ISLAMABAD: Dawn seems undecided on how to present itself to its readers.
The newspaper, which changed its layout in December 2013, on Sunday announced two more changes "in response to wishes of the majority of our readers."
The respected daily said when the paper's new format was introduced last December, two mastheads were selected – one for Sunday, and the other for weekdays. Now the paper has decided to retain the Sunday masthead.
Further, the editorial pages have been reverted back to vertical layout. In its announcement, the paper said: "The opinion and letters pages have also been redone. We will now revert to the previous vertical layout for the editorials, amongst other changes on the pages."
For a reader, the editorial pages may still seem unsettled. On page 8, instead of zigzagging, three editorials run down straight, a Zahoor cartoon, and two opinion pieces, including the weekly column of Cyril Almedia in three columns instead of two, which had been the format over the last six months.
Letters to the Editor are back on page 9 at the same place, but the two opinion columns and the From the Past Pages of Dawn section have been placed vertically.
When the paper came out with the changes late last year, readers' response to the changes in layout was mixed, especially about the Letters to the Editor section.
A reader, S.M. Anwar of Karachi, who could not recall for how long he has been a reader of Dawn, was dismayed at less space for letters. "I request that the space for the letters be restored. I am not averse to change, but it does not seem to be change for the better, in my view."
Terming the changes praiseworthy, another reader Irfan Khattak said: "Some changes" left him cold. "There are lots of pictures on every page. This makes it more like a magazine than a daily newspaper. The change is certainly not positive. It is the credibility of the paper which matters, not the pictures."
Similarly, Mohammad Zaheer from Rawalpindi failed to "understand what purpose the new layout would serve." For him, from partition till today, it has been the content that has made readers pick Dawn over all other newspapers in Pakistan.
But there were also readers who liked the changed. For Karachi's M. Muddasir Fayyaz the new design was "eye-pleasing, legible with soft and neutral colors." Also from Karachi, M Rafique Zakaria who has been a Dawn reader for 27 years backed the layout change, saying it was long overdue.
Alive to the fact that the changes did not go down well with some of the readers, Dawn also published a full-page home advert, detailing how many times it had changed its layout since its beginning in 1941.