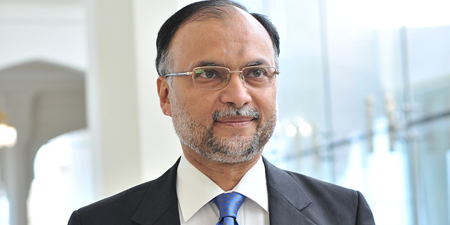 JournalismPakistan.com May 16, 2017


ISLAMABAD – Dawn said Tuesday the denials by the planning minister calling its story on CPEC as being "factually incorrect", and one that is aimed to create fear, make little sense.
In an editorial titled 'CPEC transparency', the paper said although it supports the project, "that does not mean the government has carte blanche to negotiate the terms of this massive enterprise in secret."
On Monday the newspaper ran a front-page story revealing what it claimed was the "original plan of the China-Pakistan Economic Corridor (CPEC)."
Planning Minister Ahsan Iqbal (pictured) refuted the story, terming it Dawn Leaks II – one that sought to malign CPEC. He said the report was based on an outdated proposal by China Development Bank while the actual agreement was a bilateral document which is yet to be signed.
But Dawn said the people have a right to know what exactly was being negotiated and this was especially crucial given the scale of the joint enterprise.
The paper commented that the government was now claiming that an "abridged version" of the Long-Term Plan has been shared with key stakeholders and that their feedback has been incorporated.
"Even this looks almost identical to the longer version upon which yesterday's story was based – except that the details have been removed. Saying the story was based on a "redundant document" sounds disingenuous at best."
The editorial called for immediately revealing the full extent of the understandings the government has entered into with China, including placing whatever document that has been signed as the lead agreement on CPEC before the parliament.
"Keeping matters secret, then issuing indignant denials that will clearly not survive scrutiny, only fans anxiety," the paper said.
Image courtesy: evolvemagazine.com.pk