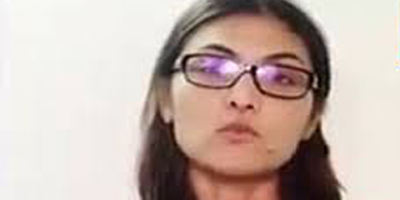 JournalismPakistan.com June 02, 2015
KARACHI: Mrs Shoaib Shaikh in a video message has urged all journalists working with upcoming BOL News Television to stay united at this difficult time saying they would win the fight soon.

She said the family met Shaikh and he is well and in high spirits. "I'm in high spirits and will fight till my last breath, but are my Axactians and Bolwalas with me and ready to fight," she said quoting Shoaib Shaikh.

She said that he is aware of all the difficulties faced by workers and journalists attached with Axact and BOL. A local court has recently remanded Shaikh, CEO of BOL and Axact into Federal Investigation Agency's custody until June 7.

He was arrested following allegations of selling fake diplomas across the globe.

"He knows your fuel cards are out of cash, you may also face problems for your salaries … but if we remain persistent in our fight and stay united, nobody can defeat us, we'll come out of the situation clean," she said.

"We should trust Shoaib and ourselves that we are right and Allah will help us. We'll win, God willing."

She said that they told Shoaib that all Axactians and Bolwalas are in high spirits and they are all standing by him at this difficult time.