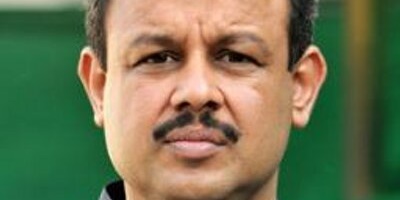 JournalismPakistan.com June 13, 2015
ISLAMABAD: Senior journalist and anchorperson Asad Kharal has won the Illinois Associated Press Editors Association (IAPEA) award in the breaking news category.

His story, "Ex-Rahm aide Amer Ahmad jailed by Pakistani authorities" which he did for the Chicago Sun-Times in February last year earned him the award.

Kharal is a renowned investigative journalist and currently co-hosts a current affairs program, Andar Ki Baat, on ARY News Television besides being a regular contributor for Chicago Sun-Times.

The IAPEA awards recognize work published or posted during 2014, and were presented Thursday during the Illinois Press Association/IAPME annual convention in Normal.

Speaking to JournalismPakistan.com, Kharal said he was happy to receive the award as it was recognition of his investigative work.
"The awards and recognition of the work encourage journalists to continue doing their investigative work and help the governments to improve governance," he said.

Kharal believes investigative journalism in Pakistan is fast fading away with advent of electronic media as journalists keep running after breaking news all the time.

"The unhealthy competition (of breaking news) among different channels has been degrading quality of journalism, let alone investigative journalism."

He suggested the media houses set up a 'Content Analysis Department' to improve quality of journalism by keeping a check on code of conduct and breaking news.

Giving tips to budding journalists, he said the new entrants must take some time out each week to do at least one investigative story as this would help open new vistas for them.

"Self-initiative, commitment and inquisitive-mind are basic qualities of becoming an investigative journalist and budding journalists should try to adopt them," he said.

Kharal has more than 1500 investigative news stories in print media and more than 100 breaking news in electronic media to his credit. He is also author of six books and a regular contributor to The Guardian and Chicago Sun-Times.