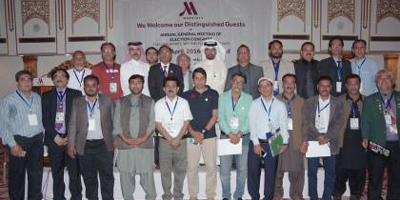 JournalismPakistan.com April 22, 2016


ISLAMABAD - Amjad Aziz Malik, Secretary General of International Sports Press Association (AIPS) Asia and an AIPS executive committee member, has been elected unopposed the president of the Pakistan Sports Writers Federation (PSWF).
AIPS said the elections in Islamabad were witnessed by Muhammad Qassem, and Muhammad Hajji, AIPS Asia President and Vice-President respectively.
Shakeel Awan of Jang Media Group acted as chairman of the election committee and was joined by Masood Rabbani of Rawalpindi Islamabad Sports Journalists Association (RISJA) and Shakeel Ur Rehman of the Sports Writers Association of Khyber Pakhtunkhwa.
Five delegates each of the affiliated units including Sindh Sports Journalists Association; Punjab Sports Journalists Association; RISJA, SWA Khyber Pakhtunkhwa, FATA and Azad Jammu and Kashmir were also present.
The newly-elected cabinet headed by Amjad Aziz Malik includes Syed Nasar Iqbal, Senior Vice-president; Syed Ali Hashmi, Vice-president; Zahid Farooq Malik, General Secretary; Ijaz Ahmad Khan (SWAKP) and Muhammad Asghar Azeem (Sindh) Associate Secretaries. Shehzad Malik was elected to the position of treasurer.
Members elected to the Executive Council include Sohail Ali, Asher Butt, Jehanzeb Siddiq, Imran Yousafzai, Shakir Abbasi,Azmat Ullah, Mohsin Ali, Saif Ul Islam, Hanif Ullah Bajawari, Irfan Rana, M Ajmal, Irshad Ali, Imtiaz Narinja, Nasim Hameed Yousazi and Arif Mehmood.
Image courtesy: aipsmedia.com
Related posts from JournalismPakistan.com Archives:
PSWF readies for Peshawar congress
PSWF rejects Sindh journalist's meeting
PSWF affairs not smooth, AIPS told