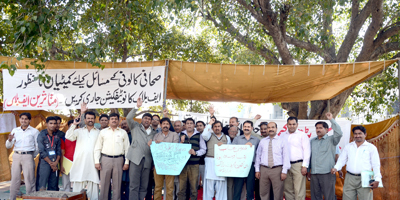 JournalismPakistan.com March 09, 2013
LAHORE: A group of protesting journalists marched to the Chief Minister's office on Mall Road Saturday (the sixth day of their hunger strike) to press for fulfillment of their demands.
The protesters are demanding allotment of promised plots in F Block of Journalists' Housing Society and arrest of culprits who opened fire on their camp Friday.
A report has been registered with the Civil Lines police station regarding the firing incident.
Muhammad Asif Butt, member of the Lahore Press Club (LPC) governing body, is the complainant whereas eye witnesses include Sher Afzal Butt, Javed Yousaf Butt, Zahid Shafiq Tayyab, Habib Chohan, Rana Imran, Sabir Subhani and Kausar Shamsi.
LPC President Arshad Ansari who joined the protest announced that the Punjab government has promised to issue a notification Monday (March 11), regarding acquisition of land for F Block, under Section 4 of the Land Acquisition Act and its transfer to the Journalists' Housing Foundation.
"If this does not happen, hundreds of LPC members will march towards the Punjab assembly building and protest right in front of it until these demands are met," he said.
He also announced the lists carrying names of new LPC members will not be released till the time the issues of F Block affectees are resolved.