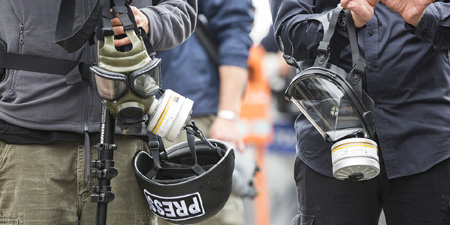 JournalismPakistan.com July 08, 2019


GENEVA — The Press Emblem Campaign (PEC) says that 38 journalists were killed in 20 countries from January to the end of June 2019.
During the same period in 2018 (January to June) 66 journalists were killed: the decrease is significant with 42% fewer casualties than the previous year.
This decrease is a positive development; however, the trend remains very worrying in two countries, the PEC said in a press release.
In Mexico, nine journalists have been killed in six months and 6 in Afghanistan, more than one-third of the total of fatalities. In Afghanistan, terrorist groups and Mexico, criminal groups bear the primary responsibility of the high price paid by media workers.
"The national mechanisms are clearly powerless to prevent those crimes and to ensure accountability, because local police and judicial institutions are insufficient or corrupt," said PEC Secretary-General Blaise Lempen.
"The international community must establish an independent mechanism that can fight impunity when the national institutions are not efficient nor sufficient in order to fill the gaps in prevention, protection and prosecution," he added.
Pakistan follows Mexico and Afghanistan among the most dangerous countries so far this year, with four journalists killed. Then Brazil with two dead and Colombia with also two killed.
One journalist was killed in the following countries: Bangladesh, Chad, Ghana, Haiti, Honduras, India, Iraq, Kenya, Libya, Northern Ireland, Philippines, South Africa, Syria, Ukraine, and Yemen.
By region, Latin America represents the most affected continent with 15 killed (Mexico, Brazil, Colombia, Honduras, Haiti). There is an improvement in the Middle East due to the lower intensity of conflict in Syria and Iraq.
The PEC strongly condemned those attacks and called upon the governments to bring the perpetrators to justice.
The PEC called upon governments, associations and civil society to continue to engage on the issue of the safety of journalists to reduce at least by half the casualties among media workers around the world, a goal set last year.