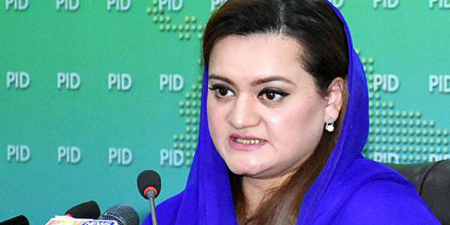 JournalismPakistan.com February 03, 2017


ISLAMABAD: The National Assembly was informed Thursday about 17 instances where PEMRA took action against private TV channels for maligning judiciary. Mostly such channels were banned and fined in 2016.
The information was shared by Minister of State for Information and Broadcasting, Maryum Aurangzeb. She replied to a query by MQM's Sheikh Salahuddin during the question hour about steps the government had taken to "control discussions in electronic/print media regarding pending cases before various courts in the country".
The minister quoted relevant clause of PEMRA rules and regulations about discussing the cases in courts on TV channels. She added that under the Code of Conduct 2015 for distributors and media broadcasters, "TV channels are bound to be more vigilant and cautious before airing news and current affairs programmes…" on cases before courts. However, the minister regretted that TV channels, sometimes, air slanderous remarks in this regard.
The list presented before the National Assembly provides 17 incidents where PEMRA took action against private TV channels for maligning judiciary. The erring channels include DawnNews, ARY, NEO, Din News, Waqt, Dunya, Channel-24, and Khyber News. The lower house was told that in November 2016 all satellite channels were warned against casting aspersions and using derogatory language against judiciary.
ARY were issued show cause notices three times. This included a 45-day ban on the talk show Live with Dr. Shahid Masood in August for "directly trying to blame…Chief Justice of Sindh High Court." Similarly, Din News was banned for 30 days along with a fine of Rs1million and asked to air apology for "airing of news against judiciary" in November 2016. In the same month DawnNews was issued a show cause notice for comments by MNA Salman Bloch in the programme News Eye against Justice Saqib Nisar, the chief justice of Pakistan.
Khyber News had to pay Rs600,000 in fine for airing comments of PTI MPA Ali Amin Gandapur in May 2016 against the chief justice of Peshawar High Court.
In all PEMRA fined various channels Rs5.8 million for maligning judiciary.