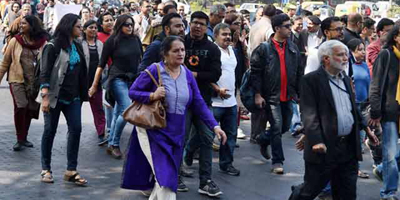 JournalismPakistan.com February 16, 2016


NEW DELHI - Top editors of Indian media and hundreds of journalists Tuesday hit the streets demanding action against those involved in beating up members of their fraternity in a court complex in police presence and sought Supreme Court's intervention in protecting freedom of speech.

The journalists, shouting slogans against the Modi Government and Delhi Police, marched from Press Club of India to the Supreme Court and submitted a memorandum to its Registrar, seeking cancellation of licences of lawyers involved in the assualt.

The protesters also demanded Police Commissioner B S Bassi's sacking due to alleged inaction by the security personnel at the Patiala House Courts Monday when journalists, students and teachers of JNU where attacked by people wearing lawyers' black robes.

A separate delegation of journalists met Home Minister Rajnath Singh demanding his intervention in ensuring "accountability of the Delhi Police who watched silently as the assault happened".

The memorandum by journalists was submitted to Supreme Court even as it agreed to hear a petition tomorrow on a plea seeking action against those involved in the violence at Patiala House court complex.

"We demand the intervention of the highest court of the land to take appropriate action against the advocates involved in the assault," the memorandum said, urging the court to direct the bar council to cancel the licences of the errant advocates.

No arrest has been made even 24 hours after the assault where Delhi BJP MLA OP Sharma was also seen beating up a CPI activist.

The journalists also said the CCTV footage of yesterday's incident should be called for and police directed to ensure protection to journalists and other media persons.

On Monday, groups of lawyers had beaten up journalists and JNU students and teachers ahead of the hearing of the sedition case registered against JNUSU president Kanhaiya Kumar in connection with an event at the university last week to protest the hanging of Parliament attack convict Afzal Guru. Anti-India slogans were also allegedly raised at the event.
Nadeem Ahmad Kazmi, Secretary General of Press Club of India, said the Supreme Court registrar told them Chief Justice of India T S Thakur will meet a delegation of journalists in a few days.

"We hope that the Supreme Court will surely protect freedom of speech because it is constitutionally mandated to do so," he said.

Senior journalist Siddharth Varadarajan slammed the Delhi Police for remaining "mute spectators" when the assault was going on.

"The manner in which the police allowed the goons to beat up journalists and no action has been taken against them even after 24 hours tells you that the terrain is likely to get more and more hostile for journalism.

"There is not even a video of Kanhaiya Kumar saying anything and he has been booked for sedition and here you have a video recording of an MLA kicking and beating somebody and not even a case has been registered," he said.

In the memorandum to the Home Minister, the journalists demanded that the perpetrators of the assault be brought to book at the earliest.

"As Union Home Minister, we urge your intervention in the matter on two counts. There should be some accountability of the Delhi Police who watched silently as the assault happened.

"And secondly, as there were CCTV cameras where the incident of assault must have been recorded, we demand that the perpetrators of the assault be brought to book at the earliest," they said.

In the memorandum, the journalists also criticised Bassi for describing the incident as a "minor scuffle".

"It is a matter of concern that the Delhi Police Commissioner has dismissed the incident describing it as a scuffle. Such observations will encourage only those elements who already believe that they are above the law of the land," it said.

In the memorandum to the Supreme Court, the journalists said Delhi Police did nothing even as "brutal assault" was unleashed by lawyers on mediapersons including, on women scribes, in and outside the court room.

More than a dozen journalists were set upon by lawyers who prevented them in the discharge of their duties. The journalists had gone to cover the hearing of the sedition case against arrested JNU students union president Kanhaiya Kumar. - PTI