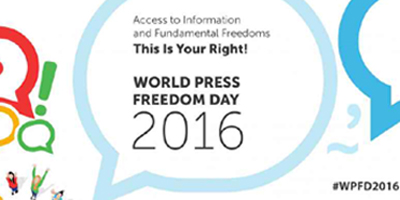 JournalismPakistan.com May 03, 2016


The Asian Human Rights Commission (AHRC) said in a statement on the occasion of World Press Freedom Day (May 3) that freedom of press is a precious privilege that no country can afford to forgo. It is the fundamental right that affords the citizen their right to information and acts as a vigilante force against tyranny and state atrocities.
Freedom of the press is the cornerstone of every democracy. However, in states where democracy is little more than fascism behind a façade of democracy, press freedom is the first casualty. And, this is the story of Pakistan today.
The theme of World Press Freedom Day 2016 is "Access to Information and Fundamental Freedoms - This Is Your Right!"
On this occasion, the UN Secretary-General Ban Ki-moon, has, in a message said, "On this World Press Freedom Day, I urge all Governments, politicians, businesses and citizens to commit to nurturing and protecting an independent, free media. Without this fundamental right, people are less free and less empowered. With it, we can work together for a world of dignity and opportunity for all."
AHRC said that to consider what the Pakistan State, government, and society need to commit to, it is important to see the state in which freedom of the press rests in Pakistan. The past year, 2015, has proved to be a year wherein there has been a dramatic rise in censorship. Both journalists and media houses have faced a silent but potent crackdown on dissent and freedom of expression not seen before under civilian rule.
According to the annual report by Freedom Network, titled, Growing Sounds of Silence – The Year of Censorship, in the year 2014, 14 journalists were killed. But, it is the year 2015 that has really proved to be the year of gags and curbs on free speech.
Pakistan has been ranked the fourth most dangerous country in the world for journalists, with a total of 115 killings since 1990, according to a report issued by International Federation of Journalists (IFJ). Pakistan is rated "Not Free" in the Freedom of the Press Index 2016, and is ranked 147th out of 195 countries and territories worldwide. According to the Report, journalists in Pakistan experience official attempts to restrict critical reporting, as well as high levels of violence from both State and non-State actors.
The Constitution and certain legislations authorize the government to curb freedom of speech on subjects that include the Constitution itself, the armed forces, the Judiciary, and religion. Harsh blasphemy laws have occasionally been used to suppress the media.
Read more here