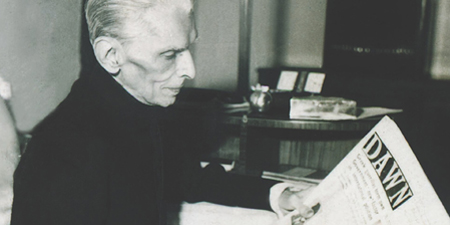 JournalismPakistan.com December 27, 2019


ISLAMABAD — Dawn newspaper told its readers on Friday that their freedom to be a Dawn reader was under threat.
The paper posted an iconic photo on Twitter of Quaid-i-Azam Muhammad Ali Jinnah reading Dawn, along with its message.
However, the paper advised readers to be "patient," saying, "Dawn has traveled this road before."
It said: "In the long term, your freedom to read the newspaper you want, as well as the freedoms guaranteed to every Pakistani under Article 19 of the Constitution, will prevail despite all the odds. After all, we have been upholding the idea of Pakistan for 71 years."
Dawn has been under immense pressure for the past few years for calling a spade a spade. Hooligans twice besieged its Islamabad offices this month and made death threats to the paper's editor and CEO.
The demonstrations followed intense criticism of Dawn on social media by political leaders for its coverage of the recent London Bridge attack in which it described the attacker as a person of Pakistani origin.
Later, the paper urged Prime Minister Imran Khan through an editorial to declare his full-throated support for press freedom and have his government demonstrate this intent.
The editorial termed the besieging "part of a year-long campaign to create a hostile environment for independent journalism in Pakistan and, in turn, to silence all dissent."
Dawn's circulation continues to be disrupted in some parts of the country ever since it published an on the record interview with former Prime Minister Nawaz Sharif in May last year.
In April this year, the government stopped adverts to the paper for some time after it ran a story quoting Prime Minister Imran Khan as saying Pakistani soil was used for attacks in Iran in the past.
Khan said this at a joint news conference with Iranian President Hassan Rouhani in Tehran.
Although the paper reported the exact details of the presser, it stood out as other national dailies made no mention of this comment by the prime minister.