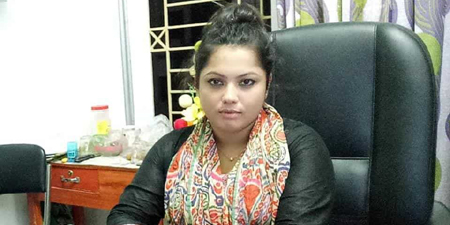 JournalismPakistan.com August 29, 2018


A woman journalist for a television channel in Bangladesh was hacked to death with a sharp-edged weapon by some unidentified assailants at her home, media reports said on Wednesday.
Subarna Nodi, 32, was a correspondent of private news channel Ananda TV and also worked for the Daily Jagroto Bangla newspaper, bdnews24.com reported.
She lived in Radhanagar area of Pabna district, some 150 km from Dhaka.
Suborna, who is survived by a nine-year-old daughter, was awaiting divorce from her husband, the report said.
The assailants, said to be around 10 to 12, came riding motorcycles and rang the doorbell of her house at around 10:45 pm on Tuesday, it said.
When she answered the door, they indiscriminately hacked her and fled the spot, Pabna additional superintendent of police Ibne Mizan said.
The assailants used a sharp-edged weapon to attack her, police said.
Some locals rushed her to the hospital where she was declared brought dead.
Journalists in Pabna have condemned the killing and demanded that the murderers be immediately brought to justice. - Agencies/Photo: Facebook