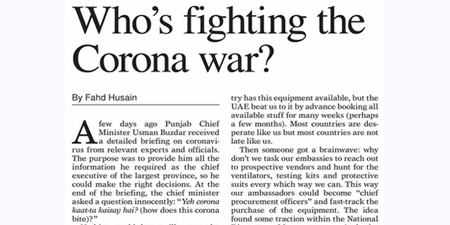 JournalismPakistan.com March 19, 2020


LAHORE—Chief Minister of Punjab, Usman Buzdar, has served a legal notice on Fahd Husain, Resident Editor of Dawn, for publishing a "baseless" quote attributed to him.
Husain in his story headlined 'Who's fighting the Corona war?' quoted the chief minister as asking someone following a briefing on Coronavirus 'Yeh corona kaat-ta kaisay hai?' (How does this corona bite)?
The intro said: "A few days ago Punjab Chief Minister Usman Buzdar received a detailed briefing on coronavirus from relevant experts and officials. The purpose was to provide him all the information he required as the chief executive of the largest province, so he could make the right decisions. At the end of the briefing, the chief minister asked a question innocently," "Yeh corona kaat-ta kaisay hai?"
The legal notice said that "the contents of the above noted paragraph are absolutely baseless because nothing of the kind as has been asserted therein ever happened."
The notice asks for an immediate apology, not later than 14 days, and seeks Rs 25 crore in damages failing which if a suit was filed Rs 25 crore plus mark up would be claimed.