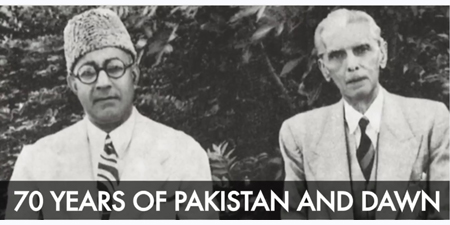 JournalismPakistan.com August 19, 2017


ISLAMABAD - Dawn Saturday began a series of 16 special reports under the title of '70 years of Pakistan and Dawn' - the largest popular history project ever undertaken in the Pakistani media.
In a front-page announcement, the paper said the first report covers the epoch of the founding fathers (1947 to 1951) and includes the Quaid-i-Azam's tenure as governor general and Liaquat Ali Khan's as first prime minister of Pakistan.
The reports will feature commentaries and articles by leading historians and journalists.
There will be selections from the newspaper's archives over the last 70 years, besides images, many of which have never been seen by today's youth. They form an attractive counterpoint to the history of Pakistani media contained in the 16 special reports, the paper said.
This is Dawn newspaper's second of three projects and ends on Quaid-i-Azam Muhammad Ali Jinnah's birth anniversary on December 25, 2017.
Dawn had begun commemorating 70 years of Pakistan's Independence with a 37-episode special feature on May 28. That series ended in mid-August.
Dawn is Pakistan's top newspaper and the most respected. It was founded by Quaid-i-Azam Muhammad Ali Jinnah.