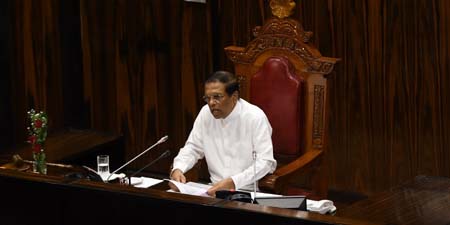 JournalismPakistan.com October 25, 2018


Journalist Meera Srinivasan is facing intimidation following a news story about Sri Lankan President Maithripala Sirisena (pictured).
The International Federation of Journalists (IFJ) joins its affiliate the Free Media Movement – Sri Lanka (FMM) in expressing concerns over the intimidation and urges the Sri Lankan authorities to ensure no further threat is made.
India-based The Hindu daily published a news report on October 16, under the byline of its Colombo-based correspondent Srinivasan, claiming that President Sirisena in a cabinet meeting claimed that the Indian intelligence agency RAW was engaged in activities to assassinate him. The President's Office denied the news, but The Hindu maintained that the information was confirmed by four ministers.
Agriculture Minister and ruling party General Secretary Mahinda Amaraweera in a public meeting in Belatta in Hambantota district said the four minsters who told The Hindu correspondent that the president had linked RAW to the alleged plot to assassinate him were themselves, RAW agents. He also said the government to find the journalist's sources and take action on them.
FMM Convener C Dodawatta said: "The allegations against The Hindu correspondent Meera Srinivasan by the government and its supporters regarding her reportage about a statement made at the cabinet meeting go beyond the right of reply and have become a threat violating the media freedom and freedom of expression. The FMM feels that this baseless allegation against a Colombo based foreign correspondent is an act of bullying and draw the attention of all concerned to respect the right of a journalist to conceal the source of information."
The IFJ said: "The IFJ is concerned by the Sri Lankan's government approach towards the journalist's sources. Witch-hunting sources of journalists and threatening action against them is a violation of press freedom and threatens media independence. The IFJ urges all concerned parties to respect the journalists' rights and press freedom." – IFJ media release/Photo: AFP