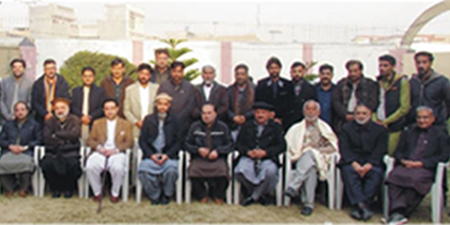 JournalismPakistan.com December 19, 2019 Haroon Siraj



SWAT – Hazrat Bilal, chairman of the election committee of Swat Press Club, has announced the office-bearers for the year 2020 who were all elected unopposed.
According to the announcement Shahzad Alam (ARY News) was elected president for the fifth consecutive year while Saeed ur Rehman (Khyber News) became the general secretary.
Others elected were: Ghafoor Khan Adil (Daily Azadi) vice president, Subhanullah (24 News) deputy general secretary, Sheraz Khan (Express News) joint secretary, and Shuakat Ali (PTV News) finance Secretary.
Office-bearers of Swat Union of Journalists were also elected unopposed.
They are Mehbob Ali (Geo News) president, Khurshid Imran (Abb Tak News) vice president, Saleem Athar (Dunya News) general secretary, Haroon Siraj (The Nation & Neo TV) deputy general secretary, Hakim Usman Ali (Daily Chand) and Nasir Alam (Daily Ausaf) finance secretary.
The five-member governing body comprises Ghulam Farooq (Daily Shamal), Rashid Iqbal (Daily Chand), Mumtaz Ahmed Sadiq (Daily Azadi), Sherinzada (Hum News) and Niaz Ahmad Khan of Mashriq TV.
Newly elected president of Swat Press Club, Shahzad Alam said that he had always rendered his services for the betterment and welfare of journalists. He said he had assisted and supported journalists for the cause of free, fair, and impartial journalism.
Deputy Commissioner Swat, Saqib Raza Aslam felicitated all the new elected cabinet of the Swat press Club.
He said that Swat Media Colony paperwork had almost been done and soon Chief Minister Mahmood Khan would inaugurate the project.