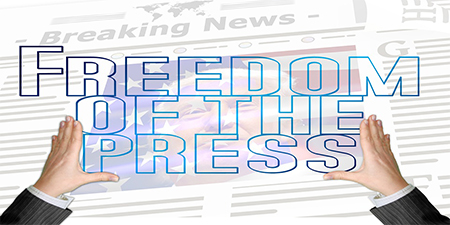 JournalismPakistan.com August 31, 2021


ISLAMABAD—The Supreme Court has resolved to put every state functionary on notice to make them realize that the court was watching and to inquire from each of them why the constitutional duty of ensuring freedom of expression and press was not being fulfilled, Dawn reported.
The court office was directed to procure a complete report to the extent of the proceedings in a similar case relating to the violation of fundamental rights at the Islamabad High Court and a copy of the petition the high court was hearing.
The movers of an application related to harassment of journalists, however, withdrew their plea even though Justice Muneeb Akhtar had observed the court had taken cognizance by invoking jurisdiction on a suo motu and would continue hearing the matter even if the courtroom was empty because it involved fundamental rights of journalists.
The observation came while notices were being issued to the Federal Investigation Agency (FIA) director-general, the Pakistan Electronic Media Regulatory Authority chairman, and the inspector general of Islamabad Police to appear in person at the next hearing (September 15) to address apprehensions expressed in the application moved by Press Association of the Supreme Court (PAS).
The apex court also asked Attorney General Khalid Jawed Khan and the advocate general for Islamabad to identify issues relating to freedom of the press and asked PAS President Amjad Bhatti to furnish a complete list with specific instances of harassment of journalists.
Justice Qazi Mohammad Amin Ahmed, meanwhile, observed that like judges, journalists were required not to indulge in politics and continue practicing their profession with decency and morality and with no ax to grind.