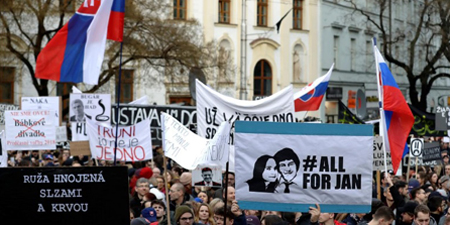 JournalismPakistan.com March 27, 2018


BRATISLAVA - The murder of Slovak investigative journalist Jan Kuciak and his fiancee last month, which sparked mass protests and forced prime minister Robert Fico to resign, was likely to have been a contract killing, a prosecutor said on Monday.
Kuciak, 27, was killed with two shots in his chest and Martina Kusnirova, 27, died from being shot in the head last month at their home outside Bratislava, the prosecutor, who asked not to be identified, told reporters.
Police found their bodies on Feb. 25 after relatives reported the couple had not been answering phones for days.
No one has been charged with the murder so far, and police and prosecutors have kept quiet on the investigation, which has included interviewing 200 people.
"There were no signs of struggle and most likely nothing had been stolen, which suggests it was a contract killing," the prosecutor said.
"Kuciak worked on a number of stories. The police are pursuing several lines of investigation with equal attention."
Kuciak had covered Slovak businessmen mentioned in the Panama Papers leaked file and also probed fraud cases involving businessmen with Slovak political ties. He had also been looking into suspected mafia links of Italians with businesses in Slovakia.
In his final report, published posthumously, he said one of the Italians had past business links with two Slovaks, who later worked in Prime Minister Fico's office.
The Italian was briefly detained in the investigation with six others. He was detained on March 13 and placed in custody in an unrelated case of suspected drug trafficking.

Both of Fico's aides have resigned but deny connections to the murder. Their Italian former business partner has denied having connections with the mafia and the murder.

The public outcry over the killings and Kuciak's reporting have led to the biggest protests since the 1989 end of communism, as tens of thousands have protested for a government shake-up or new elections.

Fico, after leading Slovakia in 10 out of the past 12 years, resigned this month. His existing three-party coalition has been reformed under new Prime Minister Peter Pellegrini, a long-time senior member of Fico's Smer party.

The new cabinet has already faced public protests as well.

Protesters see the reshuffle, which also saw former health minister Tomas Drucker replace unpopular interior minister Robert Kalinak, as insufficient to safeguard a fair investigation of Kuciak's murder. The ruling party Smer was often a target of the reporter's investigative journalism.- Reuters