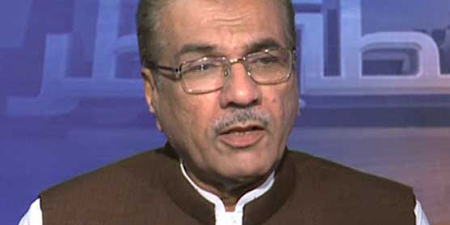 JournalismPakistan.com January 16, 2019


ISLAMABAD - Shaheen Sehbai, former editor of The News, has termed Mujeebur Rahman Shami "a corrupt, filthy black spot on journalism."
Shami (pictured) is the editor-in-chief of Daily Pakistan and appears in Nuqta-e-Nazar, a talk show on Dunya TV. He is considered close to former Prime Minister Nawaz Sharif.
In his tweet, Sehbai first berated himself for even watching the talk show of Shami. "MJB SHAMI ON TV: I cant say why I hear his FAKE Sermons on Dunya TV."
Then the veteran journalist slammed Shami. "He thinks he's the cleanest, whitewashed, most honest, objective journalist/analyst in Town. My DirtyLeft Shoe. I fear abt those who allow him on TV. He is a Corrupt FILTHY BLACK SPOT on Journalism. WUD YOU PL GO".
Sehbai was commenting on a tweet by Shami in which he thought that if the ruling PTI tries to change the government in Sindh, their governments in the center and Punjab will be in danger. He also asked the federal government to let NAB deal with the cases against PPP leaders.
Photo courtesy: Dunya News