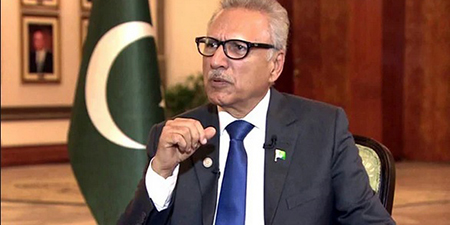 JournalismPakistan.com June 09, 2021 Published 8 days ago


ISLAMABAD—President Arif Alvi has urged to discourage the dissemination of fake news in the media.
Exchanging views with Chairman PEMRA Muhammad Saleem Baig at Aiwan-e-Sadr, the president said the media needed to play its role in promoting ethical and moral values and avoid spreading false information.
The president believed that the concept of fabricated news was against the spirit of Islam and moral values. He said that it was the moral obligation of editorial boards of media houses to play their due role. To overcome the challenge of false news, he urged PEMRA to ensure the dissemination of unbiased, accurate and verified information through electronic media.
Chairman PEMRA also presented the Annual Report 2019-2020 to the president and briefed him about his organization's role in facilitating and promoting free and independent electronic media in Pakistan. He also highlighted the steps taken for promoting true and accurate information in the country.
Photo courtesy: The News