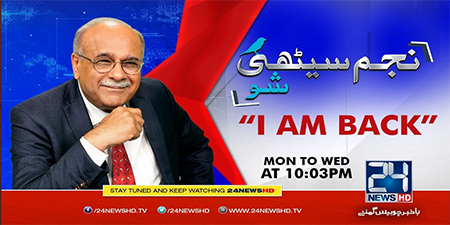 JournalismPakistan.com August 03, 2021


ISLAMABAD—Renowned analyst Najam Sethi has resumed his popular news commentary on 24 News channel.
Sharing his news show promo on Twitter, Sethi informed that it will be broadcast daily from Monday through Wednesday at 10:00 pm.
"I am back. Stay tuned and keep watching 24 News," he tweeted.
Various journalists, including former Radio Pakistan chief Murtaza Solangi welcomed Sethi's return to the TV screen.
In August 2019, 24 News had stopped airing the Najam Sethi Show, a news and political commentary program, after the management received a phone call from an unidentified individual demanding the show be dropped. Sethi claimed this while talking to the Committee to Protect Journalists (CPJ).
Earlier, the Islamabad High Court had notified Sethi that PM Khan had filed an Rs10 billion defamation suit for airing "propaganda" about the prime minister's private life. Khan also requested an order for Channel 24 to bar Sethi from hosting his program, but the judge rejected that request.
The Najam Sethi Show, after its resumption, was aired on August 2, 2021. The topic was "What Happened Before 2018 General Elections."