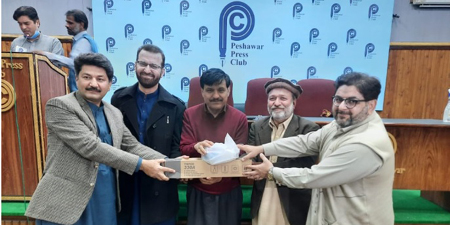 JournalismPakistan.com January 15, 2021


PESHAWAR—Khyber Union of Journalists distributed mojo kits among 70 journalists on Thursday at the Peshawar Press Club.
Fida Khattak, the union president, said they would utilize all resources to enhance journalists' capacity and overcome the challenges they face.
He said mojo kits distribution was the first step taken by KhUJ to enrich journalists with advanced technology and it would be continued in the future.
Press club president Muhammad Riaz and general secretary Imran Bukhari, KhUJ general secretary Muhammad Naeem, chairman capacity building Abdul Baseer Qalandar, members of club's executive council and governing body and journalists attended the ceremony.
Senior journalist Safi Ullah delivered a lecture on 'Digital Media' and how the journalists could perform their duties responsibly amid the current situation while senior cameraperson Aftab Ahmed taught the use of mojo kit to journalists.
KhUJ's general secretary said that journalists listed with the union would be provided the kits and training.