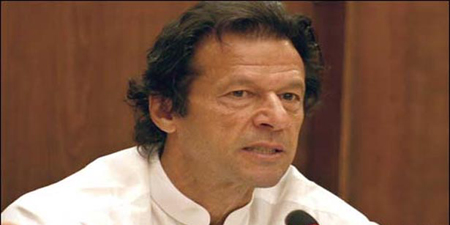 JournalismPakistan.com July 23, 2017


ISLAMABAD – Pakistan Tehreek-i-Insaf Chairman Imran Khan said Sunday it was a pity The News referred to a letter he submitted in the Supreme Court as 'Qatari.'
Addressing a press conference in Islamabad, he said only if Mir Shakil-ur-Rahman (editor-in-chief of The News) had bothered to contact the issuer of that letter he would have had a clearer picture.
The letter that Imran referred to was issued by Director World Series Cricket Austin Roberts. "He is still alive and could have been contacted. This was a standard contract of $25000 each given to at least 50 players."
He said: "Mir Shakil-ur-Rahman is a criminal who is using his newspaper to save the mafia of this country."
Last month Imran dubbed Mir Shakil as the "Godfather of media".
The PTI continues to boycott Jang Group that owns The News. Imran has repeatedly attacked Mir Shakil in his news conferences.
In its story headlined 'Imran submits 'Qatari' letter to SC', The News reported Sunday: "The presentation of a letter by counsel of Pakistan Tehreek-i-Insaf (PTI) Chairman Imran Khan in the Supreme Court to justify financial resources related to purchase of the London flats/properties is quite contrary to his stance which he had taken against the letter produced by the Qatari Prince in favour of the money trail of London Mayfair flats."
Image courtesy: urdutimes.com