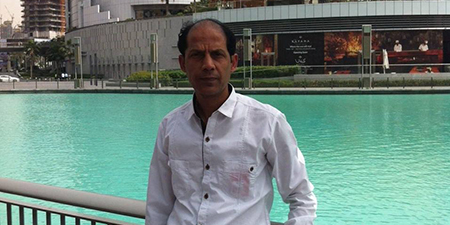 JournalismPakistan.com August 04, 2023


ISLAMABAD—Employees Union Dawn Islamabad (EUDI) recently concluded its electoral process for the 2023-2025 term. The election results, as announced by the Election Committee headed by Nasir Iqbal and Tanveer Shehzad, showcase a mixture of contested and uncontested victories.
In a closely watched presidential race, Iftikhar A Khan (pictured) emerged as the victor, securing 26 votes and earning the title of president of EUDI. His contender, Mubarak Zeb Khan, could only gather 18 votes in comparison.
The position of general secretary was seized by Asad Malik, who garnered a notable 30 votes in his favor. The vigor of his support signaled a clear mandate from the members.
Additional vital roles were appointed through uncontested elections; Mohammad Ilyas Bhatti was elected vice president, while Munawar Azim was the finance secretary. Mohammad Ashfaq was chosen as the joint secretary, and Kashif Abbasi became the information secretary.
The managing committee was also reshuffled, with five individuals being elected uncontested. Farooq Ahmed, Mohammad Wasif Sabir, Saleem Ahmed Shahid, Tariq Mehmood Naqash, and Zaki Abbas are set to play pivotal roles within the committee.
Photo: Facebook