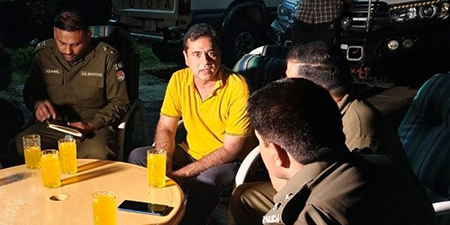 JournalismPakistan.com July 06, 2022


Pakistani authorities registered four cases against TV anchor and vlogger Imran Riaz Khan for allegedly publishing material critical of state institutions before his arrest on July 5. The International Federation of Journalists (IFJ) and its Pakistan affiliate, the Pakistan Federal Union of Journalists (PFUJ), urge the government to withdraw the cases against the journalist.
The cases against Khan were filed with police in numerous areas of Punjab, all with similar charges. Several residents submitted applications to register the First Information Reports (FIRs), alleging that the journalist was inciting anti-national sentiments by disparaging the Pakistan Army and state institutions.
On June 30, three indictments were filed against the TV anchor, one in Gojra and two in Jhang, on the complaints of three separate persons. According to the FIRs, the anchor's actions violated Pakistan's constitution as they 'wounded' Pakistani people's feelings and went against state institutions.
The cases were filed under Sections 505-1 (C), 505-2, 501, and 109 of the Pakistan Penal Code (PPC) and various sections of the Prevention of Electronic Crime Act, 2016.
Chowk Sarwar Shaheed police in Muzaffargarh also filed a separate charge against Khan under the Anti-Electronic Crime Act and other laws. Complainant Advocate Riazul Haq, the brother of Maj Zakaul Haq Shaheed, alleged that Khan had harmed the army's reputation.
Khan has since been arrested on July 5 for an FIR filed at Attock police station.
According to the IFJ's South Asia Press Freedom Report 2021-2022, "two-thirds of the complainants invoking the PECA law against journalists are private citizens, with the Federal Investigation Agency (FIA) officials the second-highest initiator of complaints."
"Opinions or criticism of the military and the intelligence agencies is the most frequent complaint against journalists," said the report.
The PFUJ said: "Registration of cases against journalists is an attempt to gag them. This is an action which cannot be permitted in any democratic and civilized country."
The IFJ said: "As the number of cases lodged against journalists increases in Pakistan, the IFJ urges the Pakistani authorities to withdraw the cases against Imran Riaz Khan and cease the use of government mechanisms to harass journalists and media workers."—IFJ media release