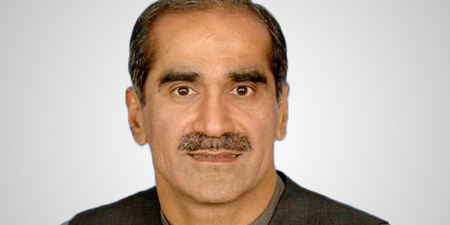 JournalismPakistan.com December 11, 2018


ISLAMABAD - Several prominent journalists on Tuesday took to Twitter to comment on the arrest of PML-N leader Khawaja Saad Rafiq (pictured) and his brother in a graft case in Lahore.
For Talat Hussain, "The second phase of unraveling the Muslim League N is underway. Now you should understand why the next 6 months media is supposed to ONLY report official truth."
In an earlier tweet, he said the current minister for railways had talked about the arrest of his predecessor. "Shaikh Rashid is proven right again. Salman, Saad in NAB custody explains his statement last week that before March 'Brooming' will be done - a reference to political cleaning in the name of accountability."
Dawn columnist Khurram Husain painted a gloomy scenario. "To where all opposition is jailed, media gagged, dissent silenced and a govt that is unable to run things."
Abbas Nasir, a former editor of Dawn, said the arrest proves that NAB is being used as a weapon against the opposition. "In line with its tradition, NAB is acting as the most lethal weapon for hounding political opponents of the military-backed government. Where will all this oppression lead to?"
He also maintained that an effort is being made to create a one-party state in Pakistan. "The PTI government & its powerful mily and intel backers seem determined to create a one-party state with perfunctory respect for freedoms, rights. If this can't be effectively resisted, we should prepare for an era worse than Zia's as he didn't have a Youth League like PTI has."
However, Sabir Shakir, Bureau Chief of ARY TV, in his tweet in Urdu made fun of the former PMLN minister's speech in which he termed PMLN lohay ka chanay.
Mubashir Zaidi, one of the hosts of talk show Zara Hut Kay on DawnNews, simply added: "Sherrrr....ek wari ferr dherrr."