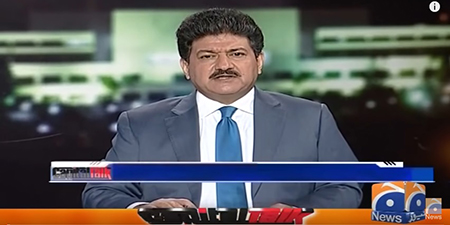 JournalismPakistan.com June 09, 2021


ISLAMABAD— In a signed statement, anchor Hamid Mir has offered regrets for his speech at a protest in Islamabad over the beating of journalist Asad Ali Toor.
"I respect army as institution," the statement issued by Rawalpindi Islamabad Union of Journalist said. Along with Hamid Mir, the statement is signed by Shakeel Anjum, President of National Press Club, Amir Sajjad Syed, President of RIUJ, and Afzal Butt, a former president of Pakistan Federal Union of Journalists (PFUJ).
The statement said a committee of the RIUJ and NPC met with Mir in which he offered clarification on his speech.
Quoting Mir, it said that on May 28, at a protest in Islamabad, concern was expressed over attacks on journalists. "Attacks on journalists, including the one on me, have not been taken seriously." He added he realized the impression created by his speech at the protest against the beating of Toor. "Under no pressure on my conscience, with complete responsibility and in line with recognized journalistic values, I want to make clear that I did not name any person in my speech. I have no fight with the army."
Saying that he respects the institution of army, he added: "From Siachen to the Line of Control and from FATA to Balochistan, I have closely observed the sacrifices of army men, and covering them has been a source of pride for me."
He said his aim was not to hurt anybody's feelings, "but if my words have hurt anybody, please accept my regrets from the depths of my heart."
The statement also requests the government to ensure that the attacks on journalists are halted. Attackers should be arrested and brought before the law. He also demanded completing the legislation to protect journalists.