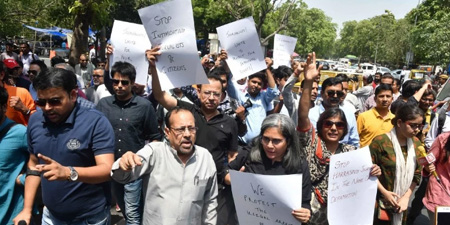 JournalismPakistan.com June 12, 2019


Since Saturday, June 8, four journalists have been arrested in Uttar Pradesh for sharing a video deemed to be 'defaming' the chief minister on Twitter.
The International Federation of Journalists (IFJ) and its affiliate the Indian Journalists Union (IJU) have condemned the arbitrary arrest and detention of the journalists and demanded an immediate investigation.
On June 8, freelance journalist Prashant Kanojia shared a video on Twitter of a woman claiming that she proposed marriage to Chief Minister Yogi Adityanath. Prashant was arrested for 'defaming' the chief minister.
Since then, the Uttar Pradesh police arrested three more journalists, Anuj Shukla and Ishita Singh of Nation Live, a Noida-based news channel and Peer Mohammad, a freelance journalist from Gorakhpur district for airing the footage of the woman speaking to journalists and for posting it on social media.
On June 11, Prashant was released on bail following orders from the Supreme Court. In the ruling, it stated that freedom of expression and other rights guaranteed by the Indian Constitution "are sacrosanct and non- negotiable."
In a statement Amar Devulapalli, President of IJU demanded that the other three journalists should also be released immediately. He said: "The order of the apex court granting bail to Prashant Kanojia is a slap on the face of Yogi Adityanath government, which arbitrarily arrested four journalists for reporting on the social media and in their news outlets. The IJU demands that the Uttar Pradesh government should immediately release all the four arrested journalists, Prashant Kanojia, Anuj Shukla, Ishita Singh, and Peer Mohammad."
The IFJ said: "We demand the immediate release of Anuj Shukla, Ishita Singh, and Peer Mohammad. While we welcome the release of Prashant Kanojia, we raise serious concerns about the state of freedom of expression and the press in Uttar Pradesh. People in authorities and leaders cannot simply arrest journalists for sharing content they deem to be defamatory; it will only work to create a culture of self-censorship." — IFJ media release/Photo: News Click