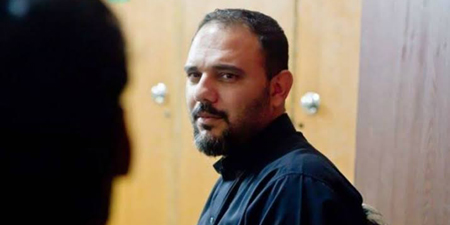 JournalismPakistan.com December 30, 2019


ISLAMABAD — Filmmaker Jamshed Mehmood, popularly known as Jami, has dropped a bombshell by accusing Dawn CEO Hameed Haroon of raping him 13 years ago.
In October this year, he had made this accusation without disclosing the name. Dawn had published the news headlined, "Filmmaker Jami Moor says he was raped by a media tycoon."
However, now he took to Twitter to say: "Yes HAMEED HAROON Raped me. I'm ready now. Are you ready to print this @dawn_com."
Haroon later on Monday rejected the accusations. "The story is simply untrue and intentionally fabricated at the instance of those who wish to silence me and through me, to compel the newspaper that I represent to support their repressive narrative," Dawn quoted Haroon as saying.
"I am initiating legal action to clear my name and reputation, and to safeguard the freedom of the press by bringing to justice all those responsible for these false and malicious allegations against me."
After Jami named Hameed Haroon, there was heated debate on Twitter.
He got support from Jahanzeb Hussain, a former editor of Prism at Dawn.com. "I'd like to express unequivocal solidarity with Jami. He was raped by CEO of Dawn, Hameed Haroon. It's especially important for me to do so since I've faced sexual assault myself and I'm a former Dawn desk head. Silence is not an option here."
But travel writer Salman Rashid questioned Jami's claim. "There are two men claiming they were raped by Hameed Haroon. I have a question: how can a grown man be raped by another individual? Couldn't they have fought him off. Hameed is not athletic at all. One punch in the solar plexus should have done it. Or were these men willing?"
But for questioning the claim of Jami, Rashid had to face a lot of flak. Nida Kirmani said: "If you're not speaking up in support of Jami, at least don't openly question the veracity of his claims. (This btw applies to all survivors of sexual violence). If you're genuinely confused, ask friends privately. We're all limited but that's called being a decent human being."
Others questioned the silence of mainstream journalists over Jami's claim. Zainab Syed asked: "hameed haroon, the ceo of dawn, raped jami azad. the same warrior journalists who are so full-throated about puppetry, injustice and oppression are now silent. when states subdue our opinions, we criticise and call it censorship. what do we do about media moguls who do the same?"
India Today prominently covered Jami's claim.
In another angry tweet, Jami said: "Im sick of these Hameed friends making it all look like some joke. F… u hasan. Yes it is Hameed haroon who raped me. F… u all for back stabbing me even after i told u and when i came out u all still didnt believe me knowing who im to u. What i ve done for u. Sick."
Another former Dawn employee Hamna Zubair jumped in, saying Dawn has been publishing claims of sexual harassment. "For anyone who says: 'newpapers can't publish claims unless there's proof' - you're wrong. How, you ask? Well, I published SEVERAL sexual harassment claims stories when I was an editor at Dawn, including allegations against Ali Zafar, Khalid Bajwa, Junaid Akram to name a few."
Earlier, she said that now the allegation has been made, the mainstream media should publish the story. "Now that Jami has named his abuser major news organisations must do the right thing and REPORT THE STORY. No legal justification to kill this story remains."
Photo courtesy: hipinpakistan.com