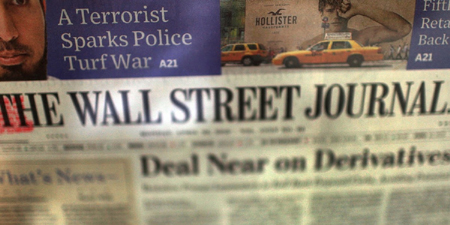 JournalismPakistan.com September 06, 2019


China effectively expelled a Wall Street Journal reporter from the country, one month after the newspaper published a report detailing allegations that a cousin of Chinese leader Xi Jinping was involved in high-stakes gambling and potential money laundering in Australia.
The International Federation of Journalists has strongly criticized the decision to reject the visa renewal and requested the Chinese authorities to reverse this decision immediately.
Chun-han Wong, a Singaporean national who has worked for the Wall Street Journal from Beijing since 2014, had his visa renewal rejected by the Chinese. In July, Wong and reporter Philip Wen published a report about Australian authorities' probes into alleged gambling and money laundering crimes involving the cousin of Chinese President Xi Jinping.
The Chinese Foreign Ministry issued a statement on 30 August saying, "We resolutely oppose malicious, defamatory attacks on China by individual foreign reporters and we do not welcome this sort of journalist," according to news reports.
The IFJ has criticized the move to reject the visa renewal of Wong. "Such attempts to stifle press freedom will impose a silence effect to other media in China, as it appears there are 'consequences' if they reported something not in favour of China. One's civil rights, including rights to enter a country, should not be taken because of his/her speech or opinion. This is a violation of human rights, and we would urge the Chinese government to withdraw such decision immediately," said IFJ. — An IFJ media release/Photo: SCMP