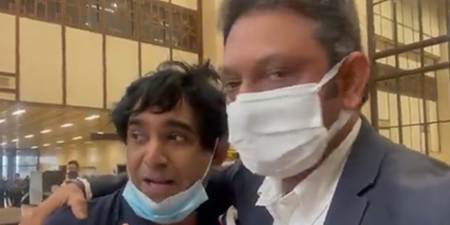 JournalismPakistan.com August 22, 2022


ISLAMABAD—BOL News anchor and YouTuber Jameel Farooqi, arrested earlier, broke into tears at the Karachi airport and claimed he was denuded and beaten by police.
In a video clip posted by the official PTI Twitter handle, he is seen handcuffed and being transported to Islamabad by an officer of the Islamabad Police.
The pro-PTI Farooqi claimed that he was being punished for speaking the truth. "I was stripped naked and beaten up," he said as journalist Faysal Aziz Khan tries to console him. "My family doesn't know where I am."
The prominent journalist was arrested for reportedly claiming that police abused Shahbaz Gill, the chief of staff of PTI Chairman Imran Khan, sexually. Gill remains in custody in Islamabad.
PTI said on Twitter: "Everyday Pakistan makes everyone believe that human rights are now completely nonexistent." The party said that the "inhumane treatment of ordinary citizens continues in the fascist imported government. How many you will silence, how many you will torture?"