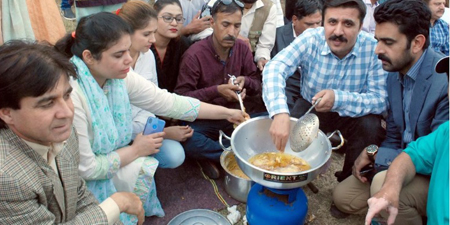 JournalismPakistan.com October 30, 2018


ISLAMABAD – Journalists on Tuesday protested the wholesale job cuts by making and selling pakoras in front of the Parliament House, and one of their customers was Bilawal Bhutto, Chairman Pakistan People's Party.
Bilawal made a purchase, and then blasted the government policies.
He said the "flag-bearers of change" have already dropped an 'inflation bomb' on the people in the form of a 'mini-budget' and are now involved in the economic murder of journalists and media workers.
The Pakistan Federal Union of Journalists (PFUJ) had called for staging the protest against the large-scale layoffs of workers by media houses, who have also slapped pay cuts, and continually delay paying monthly salaries.
The participants included the Rawalpindi-Islamabad Union of Journalists (RIUJ), National Press Club (NPC), Media Workers Organization (MWO), and Rawalpindi-Islamabad Bureau Journalists Association (RIBJA).
Bilawal called for immediate reinstatement of terminated workers.
Khursheed Shah, another PPP leader also joined the protest to express solidarity with the journalists. He said sarcastically the PTI government had brought about 'real change' in the country by adding to people's sufferings.
The protesters have announced their protest camp will continue. They said if the news organizations had laid off staff on the pretext of falling ads, it was condemnable.
At the start of the day, the journalists set off from the National Press Club and arrived in front of the Parliament House.
Afzal Butt, PFUJ President said the objective of the protest was to highlight the plight of the journalist community and not to start any movement against the government.
He called on the government to intervene and stop the large-scale downsizing which has affected the workers and their families.
Butt said that stopping government advertisements to media houses had added to the miseries of the workers. "Before punishing the owners and the management of TV channels and newspapers for their anti-government campaigns, the government should have mulled over its consequences, which has resulted in non-payment of salaries to media staff and sacking of hundreds of journalists."
Mubarak Zeb Khan, President of RIUJ said the struggle for the rights of working journalists and media workers will continue. He urged the government not to force them to take to the streets.
Veteran journalists Hamid Mir, Muhammad Mallick, Asma Shirazi, and Aamir Mateen, also spoke on the occasion. They condemned the owners and management of media organizations not paying salaries to their staff on time.
Meanwhile, Afzal Butt warned that journalists from all over the country would be called up to join this protest camp if the government did no wake-up.