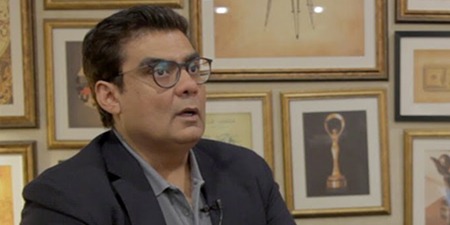 JournalismPakistan.com May 08, 2023


ISLAMABAD-Prominent media personality and CEO of ARY Digital Television Network, Salman Iqbal, took to social media to express his profound grief over the untimely demise of his cherished daughter.
In a deeply moving tweet, he poured out his emotions and shared the immense pain of losing a child.
Sumaiya, meaning "pure" in Arabic, held a special place in the hearts of her family. The loss has left a void that seems insurmountable for the grieving parents.
As Iqbal penned his heartfelt message, tears flowed uncontrollably, emphasizing the unimaginable agony of a parent who must bear the weight of burying their own child. He expressed the profound wish that no one should ever have to endure such a tragic experience, a sentiment shared by all those who read his poignant words.
"Our daughter was our joy, our little angel," Iqbal wrote. "We long to hold you, talk to you, and be with you again, my Jaan. We would give anything to have you back. The house feels empty without you, as no one can fill the void you have left behind."
Believing that Sumaiya is now in a better place, he expressed confidence that she would guide and accompany her parents to heaven.
In this time of profound sorrow, Iqbal extended his gratitude to all those who have offered their prayers, support, and condolences. He earnestly requested everyone to pray for Sumaiya.
Social media users rallied together, offering messages of comfort, prayers, and strength to the grieving family. The hashtag #PrayForSumaiya quickly gained momentum, as people from all walks of life united to show their support during this unimaginably difficult time.
The ARY News Television Network and its staff stood with their CEO and his family, extending their deepest condolences and prayers. The media fraternity at large joined in mourning the loss and sent heartfelt sympathies to Salman Iqbal and his family.