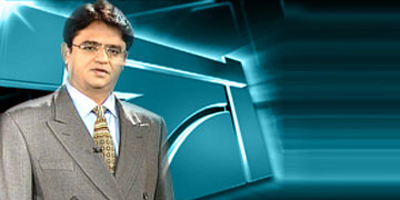 JournalismPakistan.com July 25, 2014
ISLAMABAD: In a shocking television transmission that stunned the Pakistani viewers all around the world, distinguished Geo TV anchor, Kamran Khan announced that he is parting ways with Geo/Jang Group, effectively severing a 32-year old bond.

Kamran bade goodbye to his now-ex employer media group with much respect and integrity. However, if we delve deeper behind the scenes, there might be more to this shocking move by Kamran.

It may seem that it was an amicable separation, but to the media experts and analysts share a completely different perspective. Geo/Jang Group and its owners have found themselves involved in quite a few controversies over the course of the last year. Kamran was reportedly uncomfortable with Geo News' stance as dictated by its owner Mir Shakil ur Rahman; so much so that 30-plus years of working in the same organization seemed difficult for Kamran to last any longer.

Reportedly, Kamran voiced his concern regarding all the anti-Pakistani agenda to the owner of Geo/Jang Group and even spoke out about it on air that if Geo News was found involved in receiving foreign funding or airing programs found to be biased and selling a paid-for agenda, he will distance himself from this organization.

However, Kamran reportedly began to feel increasingly uncomfortable with things he could not fix and therefore decided to leave with his integrity intact.

Khan will always be a respected individual in Pakistan. His last words on Geo were: "Let the decisions in media enterprises be made in the newsrooms and not by the owners. Pakistan will never be truly democratic unless the media is run freely."