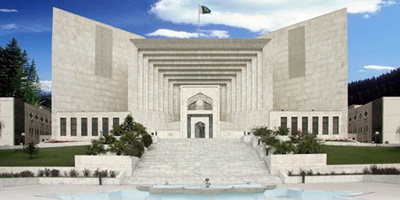 JournalismPakistan.com August 20, 2015
ISLAMABAD: The Supreme Court has directed television channels to observe the code of conduct which was agreed upon on June 18, 2015 by all relevant stakeholders.

"The order came in the backdrop of a controversial talk show, aired by a private television channel on Aug 18, where the court's decision to decline a senior counsel's application for adjournment in a particular case was criticized," Dawn reported.

A three-judge Supreme Court bench headed by Chief Justice of Pakistan Justice Jawwad S Khawaja and also consisting of Justice Dost Mohammad Khan and Justice Qazi Faez Isa took the contents of the program as offensive and an attempt to weaken the institution of judiciary.

"We respect the freedom of the press, but abuse [of this freedom] is a different thing," Justice Isa said.

The code of conduct asks channels not to air shows with content against Islamic values, the ideology of Pakistan and the founding fathers; or calls on people to take up arms against the federation or its integrity, security and defence; or that derogates any religion, sect or community and could create disharmony in society.