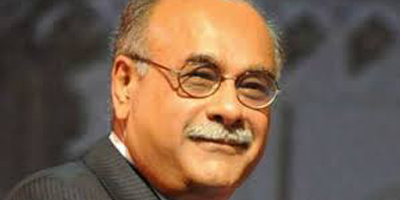 JournalismPakistan.com January 31, 2015
ISLAMABAD: Veteran journalist and popular Geo TV analyst Najam Sethi has sent a legal notice to Transparency International Pakistan for defamation.
He initiated the legal process against the TIP through Barrister Usman G. Rashid after the TIP wrote a letter to President Mamnoon Hussain on Jan 16, containing details of Sethi and his family's alleged tax evasion.
In his legal notice, Sethi said they pay more tax than any other husband-wife team of journalists in Pakistan and probably more than dozens of members of Parliament. "As a matter of fact, they (Sethi and his wife) jointly paid personal income tax of Rs.46.3 million from year 2009 to 2013," the notice said.
The legal notice also said that publishing companies of Sethi and his family also paid tax of Rs19.9 million in the last five years and all their assets have duly been declared to Federal Board of Revenue.
In this case, take this as a notice for initiation of action for defamation under section 8 of the Defamation Ordinance 2002, it said.
"Please take note that the contents of the publication constitute admissions and can be used as evidence against you," the notice said.