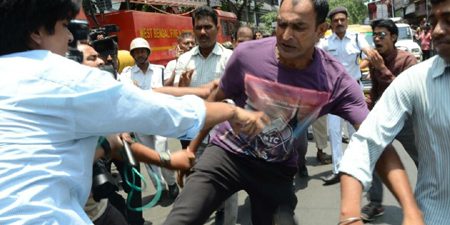 JournalismPakistan.com May 19, 2017


The International Federation of Journalists (IFJ) has strongly criticized the attack on several media workers during a fire in Kolkata, West Bengal, India on May 16. The IFJ is demanding investigation and action against those responsible.
Police attacked several photojournalists and camerapersons were who covering a fire in the Kohinoor building on the well-known Park Street in Kolkata. Police attacked the media workers, accusing them of obstructing the fire department. The driver of a police van kicked and pushed several photojournalists, in front of police officers who took no action.
Four media workers including, Sukanta Mukherjee, a reporter with ETV News, Subhojyoti Kanjilal, a photographer with Times of India, Samira Biswas, a cameraperson with ETV News and Samir, a cameraperson with 24 Ghanta News channel were injured during the scuffle, while five cameras were also damaged. Local journalists protested the incident and called on the Chief Minister of West Bengal and the Kolkata Police to take action, but nothing has happened thus far.
The IFJ said: "We strongly criticize the attack on media workers in Kolkata who were simply performing their duties behind the police cordon. The failure of local police to stop the attack raises grave concerns for the safety of journalists in West Bengal. This hostility towards journalists is not confined to West Bengal and is becoming a growing issue across India. We join our colleagues in West Bengal in demanding immediate action from the Chief Minister and the local police." – IFJ media release/Image:Tanmoy Bhaduri