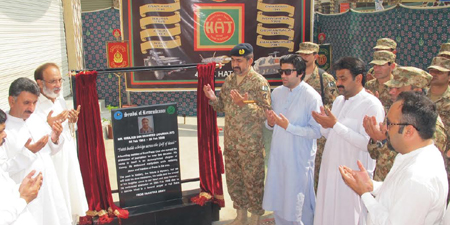 JournalismPakistan.com September 27, 2016


MINGORA - Brigade Commander Mingora, Brig. Zafar Iqbal inaugurated a monument of slain staffer of The Nation, Siraj-ud-din Tuesday.
In this connection a special ceremony was organized by Pakistan Army at Fizaghat. Military officers and senior police officials attended the event. Also present was Haroon Siraj, son of the martyred journalist. Speaking on the occasion Brig. Zafar said: "We will never forget our martyrs who sacrificed their lives for restoration of peace in the area. They will be remembered as our heroes."
He said that journalists performed their duties bravely during the military operation in Swat and added that this monument was not merely a structure of bricks rather it will help instill heroic spirit of our marytrs in our future generations by fuelling their passion for sacrifice, nationhood and professionalism.
Siraj was a committed journalist for more than two decades. During the rise of the Taliban in Swat valley he received many threats from them to stop reporting the reality and report the situation as they wanted it to be. He was threatened with dire consequences in case of non-compliance.
However, being a brave journalist he refused to take dictation and unfortunately became a victim of a suicide attack on the funeral congregation of DSP Javed Iqbal on February 29, 2008 in Mingora.
Haroon Siraj thanked Pakistan Army, especially GOC Malakand Maj. Gen. Asif Ghafoor and Brig. Zafar on behalf of his family.
Related posts from JournalismPakistan.com Archives:
Monument for slain journalist Siraj-ud-Din to be built in Swat
Posthumous award for The Nation journalist Siraj-ud-Din