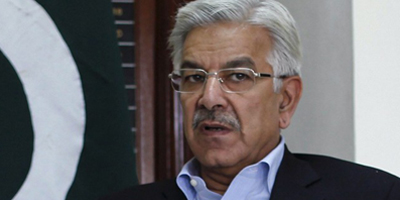 JournalismPakistan.com March 16, 2015
ISLAMABAD: Federal Defense Minister Khawaja Asif Monday lambasted the media houses for playing up protest demonstrations against electricity load-shedding.
Speaking in the National Assembly, he said the presence of electronic media and cameramen at the protest venues encourage the protestors to resort to violence and burn public property.
"The journalists should also try to do some investigative journalism instead of just filming the protestors and showing them to their viewers," he said.
The minister said the media houses should also show other side of the picture to their viewers as to why the government has been carrying out load-shedding of over 18 hours in a specific area.
"We are left with no option but to observe excessive load-shedding in the areas where our line losses have reached over 90 percent," he said.
Asif said the people in some parts of Khyber Pakhtunkhwa, South Punjab and Interior Sindh don't pay their bills but immediately start protests against the government when they aren't provided electricity.
"It's incumbent on the media to inform their viewers about the line losses and electricity-theft as well instead of just playing up the protests for sensationalism," he said.
Parliamentary Secretary for Religious Affairs and Interfaith Harmony Khalil George also complained the media was not treating those killed in Lahore twin blasts fairly. "The media should also call the Christians killed in the suicide bombings as martyrs as they call the Muslims," he said.